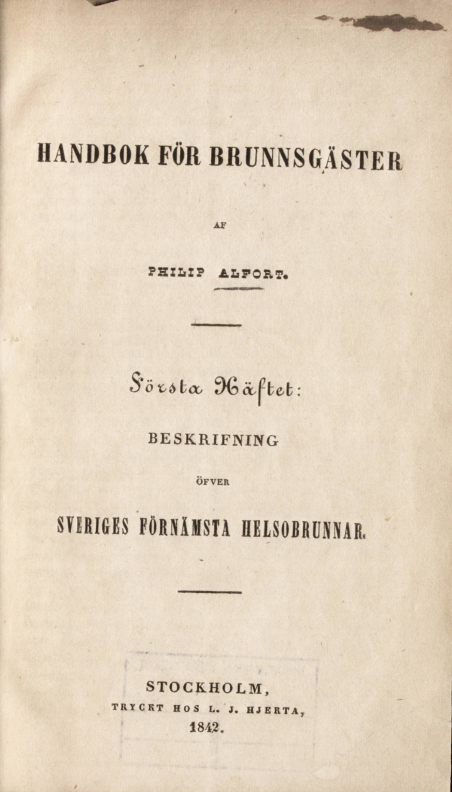 Philip Alfort
---
  Nils Philip Alfort (28/3 1820 – 21/8 1866)
  D1 branch [1.2.11.3.1]
  Son of Adolf Fredrik Alfort & Wilhelmina Almroth
  Eskilstuna Kloster, Södermanland
  Apothecary, pharmacist, provisor
icon-globe  Emigrated to San Francisco
---
  Primary sources
  10-03-2019
---
Philip grew up in Eskilstuna as the eldest son of the city's municipal doctor. His father had been a pioneer in many ways, both from the point of view of his family, in taking up a medical career, and in his profession. He had also gone on scientific expeditions to several continents. Philip probably looked up to him and wanted to make a name for himself within the natural sciences. His father probably also had high expectations for him from an early age, but there is no doubt that he was driven by a natural enthusiasm for his scientific work. Apart from founding a scientific journal and starting a book series on Swedish and Finnish spa wells, he also founded an archive for the manuscript collection Westinska Samlingen which is to be found in the University Library at Uppsala.
His career began at a school in Strängnäs in 1828 from which he graduated in 1832. He then moved to Stockholm on 22 December 1835 in order to study pharmacy, settling in the old city centre (Storkyrkan parish) at 15 years old. In September 1836 he apparently moved briefly to Sigtuna, but returned to Stockholm, and the following year he got an apprenticeship with apothecary Carl Lehman in northern Söderhamn, where he remained until October 1838. This is mentioned in a letter which the famous Swedish letter-writer Adolph Törneros wrote to his father that year. The letter talks a great deal about Philip:
Thus your Philipp is anxious not to spend more money on travelling than is strictly necessary. He did not pause to stay here to look around. Even the cathedral he did not succeed in seeing from within, for he arrived one or two minutes after the prayer hour had ended and the door been locked. I wanted to show him the Physical Instrument Room, which he himself had been curious about; but even there fate would that Rudberg was absent, he who otherwise spends almost every hour of the day at the place. The only thing I succeeded in opening for him was the Library and the art cabinett. – He now appeared to be in his métier, and to approach the world like an old experienced apothecary. It was no longer the pupil at school, but rather a man with his feet rooted in the soil of life. His sojourn away from home, and perhaps also 1½ years of added age, have given him attitude and skill within and without, very much in his favour. It is curious to see how fast personality will settle, from being an undecided je ne sais quoi. May God favour him with happiness and well-being in his station up in the high north. For his exams he must surely have time to prepare himself at the time he has decided. School studies are a good foundation on which the small structure required for such a test and inspection can easily be built. But it was a fatal incident with his arm and hand, which has been injured for good.
The full letter can be read in Swedish here.
After his stay in Söderhamn, he returned home to Eskilstuna, but in December the following year he once more headed for the capital in order to complete his studies. He first settled at a pharmacy in the Ulrica neighbourhood (by the church) on the island of Kungsholmen, where he received the epithets orderly, staid and capable (ordentlig, stadgad, duktig), as one of two students of apothecary M. P. Hamberg. On 21 February 1840 he moved to Sperlingens Backe 39 in Hedvig Eleonora parish (probably in the street Biblioteksgatan, between Stureplan and Humlegårdsgatan), where the local priest noted that he was a good and moral christian (god kristendom, hedrande fräjd), but already on 18 April he moved on to Packartorgsgatan 4 (the precursor of the main part of Biblioteksgatan) in Jakob & Johannes parish.
He clearly had a deeply-rooted wish to publicise his scientific work, because he made several publications during the next few years. He was only twenty when he started his own pharmaceutical journal Pharmaceutisk Tidning, and perhaps he was still somewhat naïve as regards scientific contributions from a young and inexperienced scientist. He didn't really have the necessary experience to do what he set out to do this early in his career. His journal only survived for two years (1840-1841), because his next publication led him into trouble and probably cost him his career in Sweden.
During this time he lived at Bryggaregränd 17 in the presumably cheap Lower Klara neighbourhood – probably what is now Bryggargatan 8 – and bore the title Med. Candidat and later Pharm. Candidat.
The Royal Library in Stockholm has kept two letters by Philip sent to the publisher and bookseller Per Gustaf Berg, written 1841-1842, presumably in connection with the publication of his book Handbok för brunnsgäster (i.e. Manual for spa visitors), Vol. 1: Beskrifning öfver Sveriges förnämsta helsobrunnar, 'Description of Sweden's most famous spa wells' icon-external-link, Vol. 2: Handbok för brunnsgäster icon-external-link, inkl. Beskrifning öfver hufvudstadens helsovårds-anstalter, med afseende på vattenläkekonsten).
The book was publicised as breaking new ground by establishing a new scientific field, but it did not receive particularly good reviews, in spite of a general consensus that it had great potential. The reviewer at the paper Dagligt Allehanda sums it up rather tersely in his brief resumé of his own review:
… a review of "Handbok för Brunnsgäster af Philip Alfort", who is recommended to, before completing this work first acquire a certain amount of the skills required to do so.
The following year he had moved to the city centre, but in 1850 he acquired a passport for travelling to North America and boarded the ship Nordstjernan departing from Gothenburg on 14 August 1850. We do not for certain why he emigrated, but it may well have been because of a scientific faux pas in his book. In his book, he had unthinkingly accused a fellow scientist of performing his chemical analysis of the waters in a particular spa well on water from a different well with different qualities, based on hearsay. It was of course unwise to have such an unfounded accusation published (although we have no way of knowing whether it really was untrue), and this may well have lost him his scientific reputation and indirectly forced him to start afresh in America. We know that it led to complaints and retaliations in the Swedish Medical Society.
When he left, he had acquired the title provisor.
When his aunt Helena Maria dies in 1856, he is spoken of as the son of age Philip Ahlfort, whose place of residence is unknown, but is assumed to be in America (myndige Sonen Philip Ahlfort, hvars vistelseort är okänd, men förmodas vara i America), and when his youngest sister Anna Lovisa Charlotta dies in 1865, he is said to be abroad (vistas utrikes). One year later, he is buried in plot 37 in the Scandinavian cemetery in San Francisco, presumably unmarried, after having died at the German hospital. He is still registered as an apothecary when he dies.
---
∇
Research data
icon-male

signature: Philip Alfort (1841, newspaper); Ph. Alfort (1841, newspaper)
 name (others' spellings): Nils Philip (1820-1855); Nils Philip Alfort (1835-1865); Lärl. N. Phil. Alfort (1837); Lärlingen Nils Philipp Ahlfort (1837-1838); Pharmacie Studiosus Alfort (1837); Apoth. Eleven N. Ph. Ahlfort (1838); N. Ph. Alfort (1840); Ph. Alfort (1842-1847); Philip Alfort (1842-1866); P. Alfort (1842-1853); Hr Alfort (1843-1852); Filip Alfort (1843); Phil. Ahlfort (1844); Hr N. Ph. Alfort (1846); Ph. Ahlfort (1848); Philip Ahlfort (1848-1856); Phil. Alfort (1849-1850); provisor Phil. Alfort (1850); Phillip Alford (1866)
 b. Eskilstuna Kloster 1820: v54894.b99.s185
 hous.ex. 1820-1831;1835-1840 Eskilstuna Kloster: v54754.b65.s55(1820-1822); v54755.b63.s54a(1823-1825); v54756.b67.s55(1826-1828); v54757.b66.s57(1829-1831); Storkyrkoförs.: v90589.b110.s213[1835]; v90642.b46.s39[1836]; Söderhamn: v136888.b26[1837]; v136843.b216.s208(1837-1838); v136888.b30[1838]; Eskilstuna Kloster: v54759.b76.s66(1838-1839); Kungsholm: v87538.b189.s185[1839]; Hedvig Eleonora: v85468.b900.s84[1840]; Jakob och Johannes: v86262.b120.s4[1840]; Kungsholm: v87505.b52.s93(1840)
 inh. v147608.b5050.s134(1853); v205255.b1160.s120(1855); v223279.b3830.s67(1856); v147988.b3820.s377(1865)