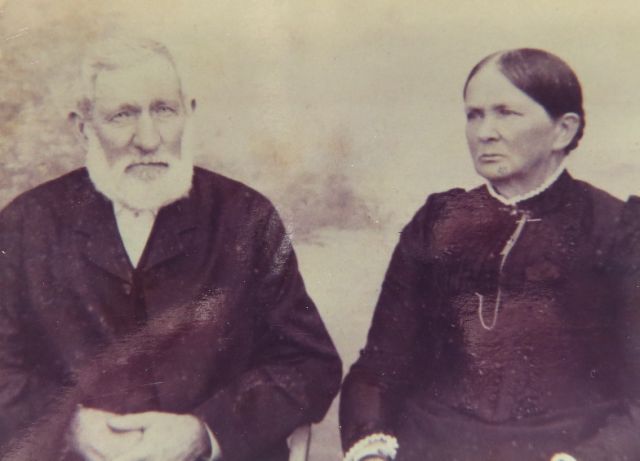 Brave immigrants in a demanding new world
Anna Charlotta Gustafson & Andreas Krogman
---
  Anna Charlotta/Charlotte Johansdotter Gustafson (14/6 1832 – 15/6 1916)
  G3 branch [1.1.4.4.1.1]
  Daughter of Johan Gustafsson & Anna Brita Månsdotter
  Mårdstorp, Torpa, Östergötland, Sweden
---
  Adolph Andreas/Andries Krogman (25/9 1816 – 15/3 1894) (m. 5/8 1849 i Maritzburg, South Africa)
  Mecklenburg-Schwerin, Germany
  Farmer
  9 children – Founders of the G3a branch
---
  Primary sources + living sources
  10-07-2021
icon-book  Also mentioned in chapter 6 of the chronicle
---
Anna Charlotta emigrated to South Africa with her foster parents when she was 12 years old. The voyage from Sweden to Cape Town took place in a "small sailing vessel", and took more than six months to complete. It was an experience which she would remember to her dying day.
They arrived in South Africa in 1844 and eventually settled on the farm Driefonteinicon-map-marker north of Ladysmith in Natal, now a township, where she lived a long and very eventful life. A mere five years later she married the German immigrant Adolph Andreas Krogman from Mecklenburg-Schwerin (son of Heinrich Krogman and Margaretha Fredericka, whose maiden name was unknown in South Africa). They married in New Germany, Pinetown, outside Durban.
It was only the previous year that she passed her confirmation.
The couple had 9 children, all of which seem to have been, or to have married, majors.
1.   Hedvig "Haddah" Charlotta/Charlotte Krogman (July 1851 – 11/3 1906)
2.   Adolph "Dolf" Heinrich Johan Krogman (1/8 1852 – 26/2 1919)

 Hester Jacoba Jacomina Wessels

3.   Andries Abraham Ferdinand Krogman (3/7 1853 – 20/11 1927)
4.   Fredericka Margaretha Krogman (7/2 1857 – 27/3 1930)
5.   Anna "Annie" Sophia Krogman (9/4 1864 – 17/11 1944)
6.   Martha Caroline Krogman (6/10 1869 – 27/7 1940)
7.   Otto Wilhelm/William Krogmann (7/1 1872 – 8/6 1916)
8.   Matthys "Thys" Wessels Krogmann (12/8 1873 – 24/12 1925)
9.   Jacobe/Jacoba Johanna "Joey" Krogman (13/9 1875 – 21/10 1918)

 Johannes Stephanus Hauman
Anna Charlotta was a strong and wilful person, and she and her husband ran a large and successful farm at Driefontein. Even when as a 74-year-old widow she got most of her possessions confiscated during the battle at Elandslaagte and was forced to leave her home, Anna Charlotta did not let that get to her.
Possibly the most economically opportunistic and astute Natal Afrikaner woman was the 74-year-old Annie Charlotte Krogman of Driefontein, Ladysmith. Krogman was forced to leave her farm when it became the scene of hostilities. The Boer forces allowed her to proceed to the farm of her son Andries Krogman in the [Oranje Free State]. Krogman maintained that the seizure of her 500 mixed head of cattle, three spans of oxen, 1 600 sheep, 500 goats, 15 horses and two wagons by the military left her destitute. Closer inspection by the Natal colonial authorities exposed Krogman's claim as not entirely true. The British had only taken 281 head of cattle for which a receipt was issued, while the Boer forces had commandeered the horses, one wagon and the greater part of the sheep and goats. Since Krogman owned 16 000 acres and received £250 for mining rights on one of her farms and was awaiting compensation from the military she was not regarded as destitute. Her daughter, who was married to John de Waal, fully agreed with the Natal Government's decision. This did not break the stride of the elderly Mrs Krogman, who now claimed that five of her oxen were running with the cattle of J van der Westhuizen, and that the Boers had commandeered nine large oxen from her. She was also quick to intervene on behalf of her imprisoned rebel son, Otto, demanding rent from the Africans placed on his farm Margate, by the military.
We do not know whether Anna Charlotta was herself aware of her true parentage. If she did, she successfully kept it a secret from everyone. Even her death certificate states that she was born in Stockholm to her two foster parents, while she was actually born at Mårdstorp farm in Torpa in Östergötland, Sweden, as explained at length in the post about her parents. In fact, her descendants were unaware of the fact that she was adopted until I pointed out to them that at the very least her mother was not the one with whom she emigrated. On the other hand, her foster father may indeed have been her true father. In that case, it would have been a great scandal if the world had found out about this fact, and this would of course account for the secrecy which may even have included Anna Charlotta herself. In other words, the very fact that her death certificate states that Hedvig was her mother as good as proves that her husband was indeed the real father.
Anna Charlotta died in June 1916, a mere week after losing her son Otto.
Obituary, Anna Charlotte Krogmann, From a Correspondent, Harrismith, June 25.

The farm "Driefontein," near Elandslaagte station, Natal, on which was recorded but recently the sudden death of the well-known Otto Wilhelm Krogmann, has again been visited by the reaper of death, inasmuch as on the 15th inst. there died, at the ripe old age of 85 years, Anna Charlotte Krogmann, widow of the late Adolph Andreas Krogmann, and mother of Otto, who preceded her by one week only.

Mrs. Krogmann came to this country many years ago, arriving at Capetown when she was only 13 years old. She was a Swede, was born at Stockholm, and often related to her family how they (because she was accompanied by her father and mother, both of whom are buried at Driefontein) braved the dangers of sea travelling in a small sailing vessel in those far-off days, which took over six months to complete the journey to the Cape. She married her late husband at Maritzburg in 1849, when the present city was nothing more pretentious than a small dorp.

It seems most regrettable that we cannot allow such links to pass away without having written upon their past experiences, for many will remember how the old lady could relate her knowledge of what happened about Durban at the time she lived near the Umgeni. how she saw elephants in Natal and hippopotami in the Umgeni River, and how her late husband killed lions, wolves and other wild beast about the farm where she breathed her last. Also, what she experienced during several native wars, and how, after they had to gather together with the scanty population into "laagers" during such wars and native unrest.

She had four sons and five daughters, all alive except Otto and one daughter, and these are living in Natal, Free State and Transvaal. A large number of telegrams were received by the bereaved family expressing sympathy, and many floral tributes arrived by train and otherwise. The funeral was well attended by relatives and sympathetic friends. The Rev. Mr. Lamont, Presbyterian minister, of Durban, officiated at the funeral.
---
∇
Gallery
---
Documents
---
Research data
 signatures: A. C. Krogman
 name (others' spellings): Anna Charlotta Johansdr (1832-1837); Anna Charl./Ch. Johansdr (1837-1844); Anna Charlotta Gustavssohn (1848); Anna Charlotte Krogman born Gustafzon (1894); Anna Charlotte Krogman born Gustafson (1916); Anna Charlotta Krogman (1916)
signatures: A. A. Krogman
name (others' spellings): Adolph Andries Krogman (1894-1916); Adolph Andreas Krogman (1916)
 b. Torpa 1832: v41301.b169.s325
 hous.ex. 1833-1844 Ödeshög: v26659.b370.s719(1833-1837); Heda: v25856.b13.s13(1837-1841); v25857.b13.s15(1842-1843); v25857.b200.s389(1843-1844)
---
Archive
 

icon-camera

  portraits Anna Charlotta (Chris-Marié Wessels)
 

icon-camera

  portraits Adolph Andries (Chris-Marié Wessels)