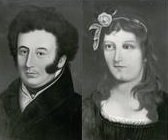 Emigrated to South Africa
Johan Gustafsson & Hedda Zachrisdotter + Anna Brita Månsdotter
---
  Andreas "Anders" Johan Gustafsson/Gustafzon (28/7 1799 – after 1844)
  Branch G3 [1.1.4.4.1]
  Son of Gustaf Fredricson & Märta Törne
  Tokarp, Säby, Småland
  Juryman, farmer (Nämndeman, hemmansbrukare, förpantningsägare, torpare)
icon-globe  Emigrated to South Africa 1844
---
 1. Hedvig "Hedda" Zachrisdotter (11/8 1796 – after 1844) (m. 19/10 1821 in Säbyicon-map-marker)
  Snällebo, Säby, Småland
  No known children
---
 2. Anna Brita Månsdotter (5/9 1810 – 14/7 1905)
  Torpa, Östergötland
  1 child (see below) – Founded Branch G3a: Krogman in South Africa
---
  Primary sources + living sources
  19-10-2022
icon-book  Also mentioned in chapter 6 of the chronicle
---
Johan grows up at the farm Tokarp in Säby parish as the eldest son of the church warden and juryman Gustaf Fredricsson. 1820-1821 he serves at his father's other farm Bredstorp Norrgård. In the latter year he marries Hedda Zachrisdotter whose brother works at the farm. Their parents are Zacharias Persson and Annika Jonsdotter. For some reason the couple is married at Varvestorp.
Johan is described at the time of his wedding as "acceding farmer at Bredstorp" (tillträdande hemmansbrukare i Bredstorp), whither they move 1825. His wife seems to have been a maid there too. The farm seems to have been promised to him, but something must have happened, because in 1827 they move to the cottage Ängen on the grounds of Tokarp, where they live as crofters.
In November 1830, they take on a new maid, a 20 years old girl by the name of Anna Brita Månsdotter from Torpa. She leaves the place a year later, pregnant and with a clerical warning for her unacceptable behaviour.
In 1833 Johan and Hedvig move to remote Tällekullenicon-map-marker in the forests of Ödeshög parish, where he is elected juryman just as his father before him. Eventually, he also acquires the title of förpantningsägare.
They do not have any children together, but while in Ödeshög they take on their previous maid Anna Brita Månsdotter's illegitimate child Anna Charlotta Johansdotter as a foster daughter. She was born on the 14th of June 1832 in Torpa, where her father is registered as unknown. Foster children were often related to their foster parents in some way, and indeed it is not impossible that the father may have been Johan Gustafsson himself. He was of course a respectable man who was both a church warden and a juryman, and that may be the reason that she was sent off to another parish where the father was unknown. Unfortunately, the sources are inconclusive as to the child's parentage (see below), and they may also simply have done a good deed and taken on their maid's child. Since they never have any children of their own, it is of course possible that Hedvig could not have children and perhaps was glad to have one in this alternative way.
In 1837 they move on to the estate Diseved Rusthållicon-map-marker in Heda parish, where they are described as lodgers; their foster daughter comes with them. They stay at Diseved until 1843, and the next year they spend as lodgers at Tjugby Västergård.
On the 11th of October 1844 they emigrate to South Africa! The voyage to Cape Town takes 6 months, and the 12 year old girl Anna Charlotta remembers it for the rest of her long and highly eventful life. She eventually becomes a quite well-known character in her new homeland where she braves many difficulties and dangers.
Looking at their signatures at their joint will and testament from 1872, it appears that Hedvig not only was much more trained with a pen than her husband but also a first-mover when it came to adopting a new surname which would work in South Africa. She chooses an embellished form of her husband's name, Gustafzon, while he hangs on to the Swedish Gustafsson.
---
Whose daughter?
Given that the descendants are interested in knowing more about the foster daughter Anna Charlotta, here is a fuller documentation of her early life:
Her mother Anna Brita was born on the 5th of September 1810 at Stocksmålen in Torpa parish to lifegrenadier Magnus Tranbom and his wife Catrina "Carin" Månsdotter.
By 1824, both Anna Brita and her mother Carin Månsdotter were serving as servant girl and maid, respectively, at the Alfort family estate 
Liljeholmen
until 1825, and afterwards they were allowed to settle at 
Hårdaholmen, 
which was also owned by the family.
Carin had long been a widow by then; now, she was "poor and sickly" (fattig och sjuklig). Anna Brita got a new situation as a maid at Torpa vicarage 1826-1828, and it seems that she brought her mother with her. After that, Anna Brita served at Tranberga for one year and at Holma for another year.
She then moved in with Johan Gustafsson and Hedvig Zachrisdotter in the cottage Ängen in Säby parish as mentioned above. The local priest noted that her religious reading was very satisfactory and her understanding sound (försvarlig).
Nonetheless, a year later she was forced to leave the parish in humiliation, pregnant and with a warning. She went back to Torpa parish on the 24th of October, and bore the child at Mårdstorp on the 14th of June, eight months later.
If indeed Johan was the child's father, he would of course have been unknown in Torpa parish. It would also be highly understandable that she had to leave the parish and keep the father secret in order that he might keep his job and respectability. On the other hand, it could just as well have been someone else.
After the birth, Anna Brita moved in with her widowed mother Catrina "Carin" Månsdotter at Långstorp to nurse the child.
Anna Brita left for Tranberga in 1834, leaving her daughter in her grandmother's care until she was adopted by Johan Gustafsson and Hedvig Zachrisdotter in Ödeshög parish a year later.
---
∇
Research data
 name (others' spellings): Anders Johan (1799-1821); Anders (1805-1820); Anders Johan Gustafsson (1820-1821); Johan Gustafsson (1821); B. Johan Gustafsson (1821-1827); Torpar./T. Johan Gustafsson/Gustafss. (1827-1833); Brukaren och Förpantningsägaren Anders Johan Gustafsson (1832); Nämdemanen Johan Gustafson (1833-1837); f.d. Nämndem. Johan Gustafsson (1837-1841); Nämndeman Joh. Gustafsson (1842-1843); Nämndemannen Johan Gustafsson (1843-1844)
 name (others' spellings): Hedda Zachrisdotter/Zachrisd:r (1821-1827); Hedvig Zachrisdotter/Zachrisd:r (1827-1844); Hedvig Zachariædotter (1837-1841)
 name (others' spellings): Anna Brita (1810); Pigan/Pig. Anna Brita Månsd:r (1832)
 b. Säby 1799: v36241.b185.s380

icon-female

b. Säby 1796: v36241.b163.s336
 b. Torpa 1810
 m. Säby 1821: v36243.b228.s455
 hous.ex. 1799-1802;1806-1808;1812-1844 Säby: v22034.b119.s107(1799-1802); v48937a.b2350.s221(1806-1808); v22038.b142.s131(1812-1815); v22040.b166.s154(1816-1819); v22042.b211.s198(1820-1821); v22042.b211.s198(1821-1827); v22042.b170.s157(1827-1828); v22044.b186.s175(1828-1833); Ödeshög: v26659.b370.s719(1833-1837); Heda: v25856.b13.s13(1837-1841); v25857.b13.s15(1842-1843); v25857.b200.s389(1843-1844)
 hous.ex. 1820-1844
 cens. 1805-1812;1815-1820 Tokarp: v400760a.b1670.s157(1805); v400760a.b11860.s1170(1806); v400762a.b177.s173(1807); v400762a.b1116.s1108(1808); v400764b.b218.s422(1809); v400768.b2390.s471(1810); v400771.b2260.s441(1811); v400773.b2180.s377(1812); v400779.b10540.s1448(1815); v400781a.b851.s1095(1816); v400783.b8330.s1057(1817); v400785.b8090.s1039(1818); v400787.b8450.s1069(1819); v400789.b7920.s1029(1820)
 inh. v77725.b69.s131(1821); v77733.b108.s207(1832)
 child b. Torpa: v41301.b169.s325(1832)
Anna Charlotta Johansdotter hous.ex. Torpa 1832-1835: v29521.b119.s221 (1832); v29521.b74.s131(1832-1835)
Anna Brita Månsdotter hous.ex. Torpa 1824-1835: v29519.b107.s185(1824); v29520.b23.s29(1825-1826); v29520.b144.s271(1826-1828); v29519.b107.s185(1828-1829); v29520.b126.s235(1829-1830); v22044.b186.s175(Säby 1830-1831); v29521.b74.s131(1832-1835)
Carin Månsdotter hous.ex. Torpa 1831-1832: v29521.b84.s151(1831); v29521.b186.s355(1831-1832)
---
Archive
 

icon-camera

  Johan portrait (South Africa)
 

icon-camera

  Hedvig portrait (South Africa)
 

icon-briefcase

  A lock of Johan's hair (South Africa)